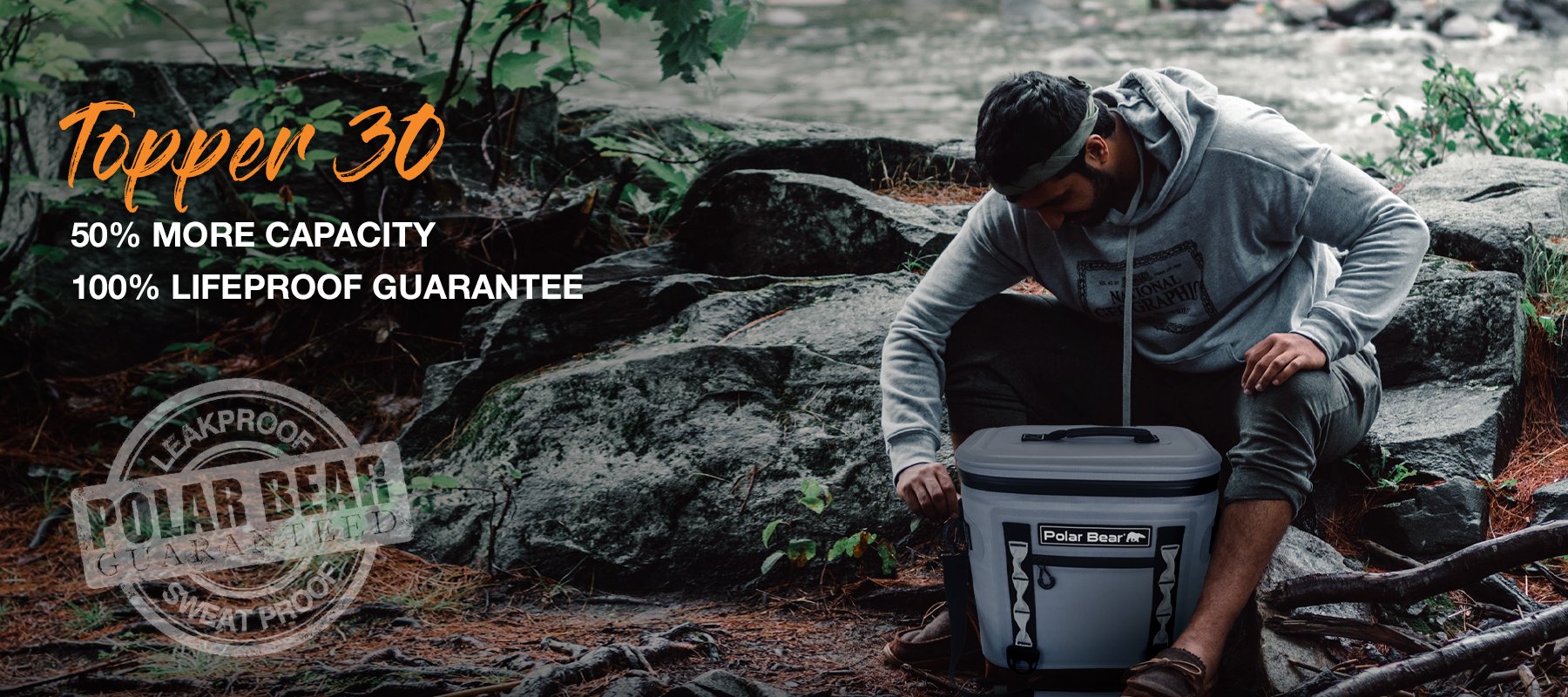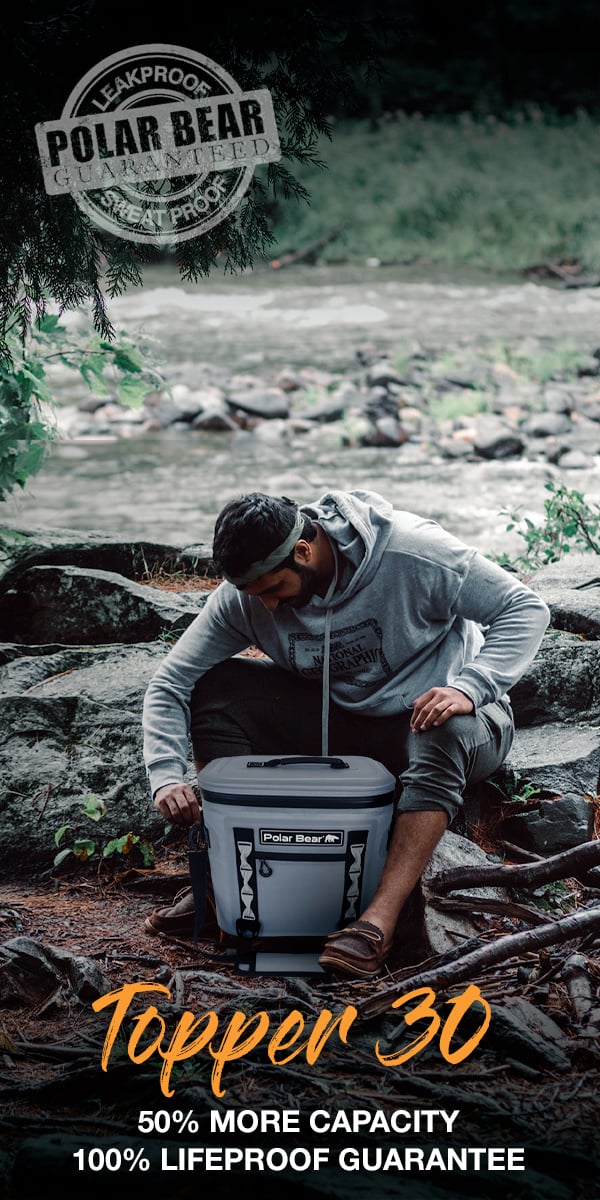 Feel the insulation sensation! We took our most popular cooler and made it even better! The Polar Bear TOPPER 30 is the most insulated soft cooler we have ever made, with the capacity to hold 18 cans and a pack of ice.

The TOPPER 30 comes equipped with an airtight / watertight, weatherized rubber coated zipper that keeps cold in and hot out, allowing you to keep things colder longer. The Topper 30 will float! It is 100% waterproof inside and out. Great for the boat or RV, the TOPPER's waterproof design is easy to clean and built to last!

The Topper's easy access flip top design features 4 tiedowns and 4 daisy chains (2 on each side) as well as a front zipper pocket and mesh back pocket.

The Topper gets its name from having the handle on TOP (where it should be) making it the most convenient, light weight and easily transportable soft cooler available. That's right, we've thought of everything so that you can focus on keeping cool! And keeping cool is just what you will do with the Polar Bear TOPPER 30. Polar Bear Coolers - Nothing Keeps Cool Like a Polar Bear!

Features:
Stylish easy access flip top designs

Feel the Insulation Sensation! The TOPPER is second to none in Cold chill retention

Keeps ice cold for 48 hours in 100° temperatures

100% waterproof RF Welded construction inside and out

Airtight / Watertight Weatherized Rubber Coated Zipper

Capacity 18 - 12-ounce cans and a bag of ice, or fits 18 cans and two Big Chill Polar Bear Iceberg PCM's

Convenient easy to carry handle on top

Fully adjustable padded shoulder strap

But does it Float Fully Loaded? Yes

Mesh Pocket / Zipper Pocket

Heavy duty construction with daisy chain and tiedowns

Dimensions: 11.5" x 13" x 14"
Introducing the ALL NEW Polar Bear TOPPER 30 Flip-Top Cooler featuring Easy Zip!
The Easy to Transport, Easy to Access, Insulation Sensation!
When it comes to keeping it cool, the Topper is second to none! The Topper is the most well-insulated soft cooler you can own for cold chill retention. And while you are keeping it cooler than the rest, enjoy the Easy Zip experience! Our easy to open splash-guard water-resistant zipper provides quick easy access to the things you need inside... and of course if you are like us, you are going places. Portability is a breeze when you have the handle on top. Yes, being on top is what the Topper is all about! It's the little things that make a big difference!
There are great opportunities available with the Polar Bear Cooler line. Polar Bear Coolers are the highest quality soft coolers made and our success over the years just goes to show that if you give someone a quality product at a fair price, they will remember you for it. The fan mail speaks for itself.
Apply For Wholesale